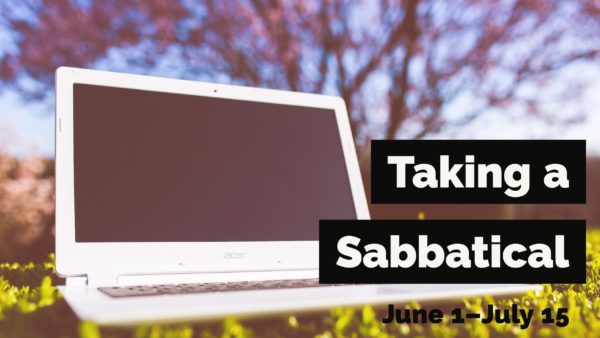 I'm sure you never have a stressful day, week, month or year. Everything you touch turns to gold, right? Isn't that what it's like for all smart people on the Internet?
You know I'm joking! Podcasting, whether for business or hobby, can be stressful at times. And running a business, no matter its underlying passion, can also be stressful.
So I'm doing something radical.
I decided to take a kind of sabbatical. For the month of June, I'll be unavailable for consulting, interviews, answering questions, responding to feedback, or any other business. All requests will be automatically archived and may not receive any personalized responses. I will be available only to members of Podcasters' Society, and customer-support for my products will continue. If you need something from me, please contact me again after July 15.
I will continue to publish episodes of The Audacity to Podcast, possibly some thoughts on this blog, and maybe some other content.
This won't be a work-free sabbatical. During this time of reduced demands, I will focus on making Podcasters' Society even better, including new courses, resources, and other value exclusive to members of Podcasters' Society.
Being transparent with you, I'm nervous about this. But I think the timing is right. Plus, while I was already considering this, I heard several podcast episodes confirming this is the right thing for me to do right now.
I still have a lot of things going: several of my network's podcasts need your daily votes in the Podcast Awards, I'm preparing for Podcast Movement (as a speaker and a sponsor), The Audacity to Podcast was nominated for an Academy of Podcasters award, I'm re-opening Podcasters' Society on July 1.
Plus this very special announcement:
This is what I need to do, and I'm looking forward to it! I encourage you to consider how you might be able to take your own sabbatical this year.
When I sent this to my podcasting newsletter subscribers, I received wonderful cheers and encouragement. Even as I respond to consulting requests or halt business talks, everyone has been understanding and supportive!
Here's to focus, clarity, and renewed energy!