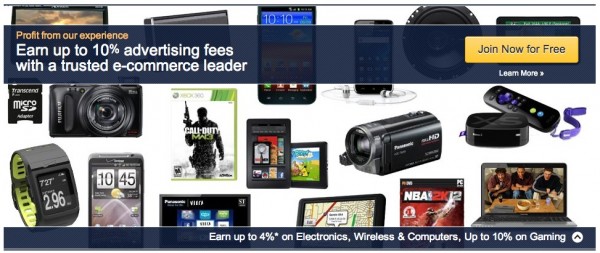 How much consideration do you put into choosing which affiliates links you use?
For most of my podcasts, affiliate links are easy—Amazon.com for everything because they sell everything at usually great prices.
But on my "how-to" podcast about podcasting, The Audacity to Podcast, affiliates are more complicated. I recommend many more products:
mixers,

microphones,
software,
audio cables,
video cameras,
mobile devices,
web hosting,
and anything else that helps podcasting.
In the past, I've used several affiliates:
The decision for a link is hard when affiliate programs vary in payouts and certain companies will happily reshare my content if I use their affiliates exclusively. But when a single product is the same price on several sites, it's even harder to decide which affiliate to use.
I appreciate the affiliate relationship I have with B&H, but I know it's often more convenient and cheaper for my audience to purchase from Amazon.com.
A quick poll on Twitter, Facebook, and Google+ revealed overwhelming preference for Amazon.com, even when other retailers had the same price. The reasons usually focused on the following.
Amazon Prime members who could get free two-day shipping
Amazon.com giftcards earned through programs like Swagbucks
Account already exists on Amazon and don't want to sign up somewhere else
Amazon.com's trusted reputation
I even prefer Amazon.com for most purchases because they usually have the best price, we have a warehouse nearby, and I regularly earn free giftcards from Swagbucks. Am I violating any rule by using an affiliate link to a retailer I may not prefer?
Then looking on the profit side, I usually make more money through my Amazon affiliates than I do with other affiliate links. Almost every month, I sell enough items through my combined Amazon tracking IDs that I earn a 6.5% commission (I'm always so close to 7%!). Each additional item sold through Amazon increases the possibility that I could earn a higher percentage rate.
Amazon offers handy widgets and plenty of linking options, including simply adding "tag=danieljlewis-20" to any URL to turn it into an affiliate link.
Then there's B&H. They have a great website, accurate search, great customer service, and handy link creation. While they offer a variety of widget formats, making widgets are a pain. My earning potential with B&H is a little lower. But they've reminded me that if I exclusively use B&H affiliate links in my product reviews, they would share my reviews with their social-media followers. And the better I perform, the more likely I can borrow some demo units for more reviews.
For most podcasting equipment I talk about on The Audacity to Podcast, I end up including affiliate links to both Amazon.com and B&H. This makes my linking process twice as long.
So what's the ethical thing to do? I believe that is to continue offering Amazon.com affiliate links first unless a better price or better product is available elsewhere. Sure, this won't make me popular with companies like B&H, but I believe this will give my followers the right options for them to make their own choices. After all, they're smart people.
How do you handle affiliate links for the same product from competing retailers? I'd love to hear your opinions and experience in the comments below.