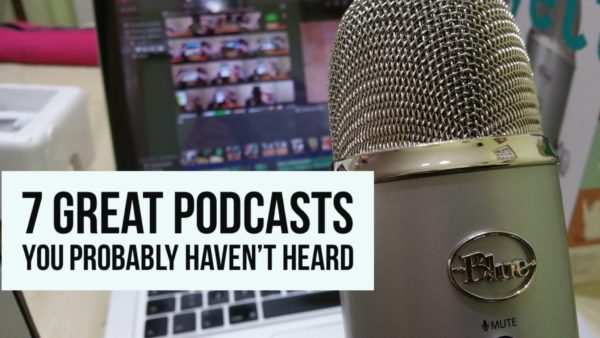 It's easy to find popular websites recommending the same popular podcasts—mostly the "top" podcasts in iTunes. Independent niche podcasters don't get the recognition they deserve.
While cohosting Podcasters' Roundtable #70, "What Could Podcasting Be Doing Better?" we got into a discussion about the "little" podcasts with great value that aren't being featured often. We each decided to do something about that!
I listen to a lot of podcasts (mostly about podcasting, business, or podcasting business). Here are 7 of the "unpopular" podcasts I enjoy and think you might like to try.
This is my #1 favorite podcast. That Story Show is clean and always makes me laugh. I save this podcast for listening while I mow the yard or shovel snow because it makes my two most-hated tasks better.
I grew up with PC games from the '80s and '90s, and that's what The Upper Memory Block is all about! I love hearing more about the history of some of my favorite childhood games, like Sierra's adventure games (Police Quest, Space Quest, and King's Quest), Descent, and more!
Hear from a married couple about the struggles, victories, and ideas to spice up your marriage. One Extraordinary Marriage also provides many helpful resources on their website.
Hosted by a separately man and woman who share from their own professional experience as speakers, authors, and therapists, as well as from their own experiences in their respective marriages. Sexy Marriage Radio brings straightforward, open, and sometimes challenging conversations to help you improve every aspect of your intimacy with your spouse!
John Bell is an amazing voice talent! Bell's in the Batfry is a clean-comedy podcast that showcases John's vocal skills and script creativity. Sometimes groaners, but always entertaining.
Clinton Alvord created one of the first comedy podcasts and it's still going! Comedy4Cast used to be only 4 minutes long, but now it has more flexibility. Sometimes, it's humor from Clinton's perspective; sometimes, it's comedy sketches. In recent years, some mild profanity has made its way in, but the podcast is still enjoyable.
This is my surprising recommendation (because of its explicit rating), and Classly Little Podcast won't be for everyone. Emily Prokop (member of Podcasters' Society) and James share information that's interesting, entertaining, and even educational!
What are your favorite unpopular podcasts? Please blog about them on your own site and share a link to your blog post here!